Group Parties
People love indoor rock climbing and they'll never forget the first time they reach the top of our 65′ walls! Our group party package offers an exciting climbing adventure with plenty of time for a party in our party room. Climbing instructors will help make your event truly special. All ages welcome and no experience is required.
What's Included
Every Carabiner's party is an exciting rock climbing adventure that consists of 1.5 hours of rock climbing with our experienced climbing instructors followed by 30 minutes in our party room. All safety equipment is included in the cost. Our decorated party room is furnished with tables, chairs, refrigerator, freezer and all the paper products you would need (including plates, bowls, napkins and plasticware) to make your experience a breeze. The best part is you can leave the cleanup to us!
Climbing Adventure Basics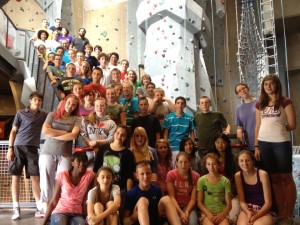 2 hour party includes:
1.5 hours rock climbing
30 min. in our party room
All safety equipment
At least two staff instructors
Decorated party room:
Includes paper products (plates, bowls, napkins, plasticware)
Includes basic party decor
Full refrigerator, freezer, and microwave available
We maintain an instructor to climber Ratio of 1:6, but we're happy to provide more instructors with advanced request
Party Rate
$250 for 7 to 10 Climbers
$10 for each additional climber
$25 for each additional belayer (either provided at the 1:6 ratio or requested)
Organizer Tips & FAQ's
Registration Form:
Ever climber must have a Registration Form on file before they will be allowed to climb. Adults 18 years and older can complete their own Registration. Minors must have their Registration completed by a parent or court appointed legal guardian before they can be allowed to climb. To ensure your party begins on time, please ask participants to complete the Registration before arriving for the party, by clicking on the link below (also found on our home page). Some organizers prefer to include a copy of our Registration Form in their party invitations.



Setup & Decorations: Party organizers may arrive 15 minutes early to set up the party room with food or special decorations if you like.
FAQ's
Q. Does Carabiner's provide food?
A. Carabiner's does not supply any food or beverages for parties. You are welcome to bring any refreshments you would like and/or have them catered. Menus for local pizza delivery restaurants are available at the front desk and we are happy help you place your order. Cold beverages are available for purchase at the front desk.
Q. How many climbs are good for kids?
A. The simple answer is TONS! While we don't count the number of climbs, we do ensure a low instructor to climber ratio to ensure every climber has several opportunities to climb the walls and rope ladders. If you would like to add additional staff, you can hire additional staff belayers for $25 per belayer. Please request additional belayers when you make your reservation.
Q. How old do climbers need to be?
A. We do not have a minimum age for climbers. All climbers must be able to fit into a climbing harness and have the desire to climb. Typically kids start climbing around age 5, but we have kids as young as 2 years old climb regularly!
Q. What is the instructor / climber ratio?
A. Carabiner's provides a ratio of 1 instructor for every 6 climbers, so for 7 to 10 climbers you'll get 2 staff belayers. Additional belayers can be added at your request for $25 per belayer. Please request any additional belayers when you confirm your reservation.
Q. What if we do not want to use the party room, can we climb longer?
A. Of course, its your party! Were happy to climb for the entire 2 hour party if you do not wish to use our party room. Please let us know if you do NOT want the room when you book your event.
Complete our online Safety Agreement & Registration form
New Bedford, MA 508-984-0808