Studio Fitness Class Descriptions
This is our current list of weekly classes.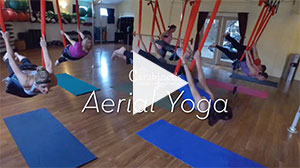 Aerial Yoga:  Aerial Yoga takes your Vinyasa yoga moves up, up and away!  This playful and energizing practice leaves you feeling relaxed, lengthened and integrated. Incorporate aerial circus tricks and conditioning to enhance breath, movement and balance.  Build heat, strength and flexibility to challenge your entire mind/body and awaken your inner-child.  Get ready to fly!
Capoeira:  Sem Cordão (Cordless) Capoeira is a fun, multicultural, multidimensional martial art-based workout introduced in a relaxed atmosphere.  Come learn to dance and move and most importantly, play like a capoeirista.  A useful class for those looking to increase flexibility, core strength, balance, and reactive instincts. Lose your rigidity, come play!
Total Barre: Barre class is the hottest trend in fitness! Total Barre efficiently blends Pilates, ballet barre technique and cardio/strength training specifically to challenge arms, legs and core to sculpt your dancer's physique. All levels.
Power Pilates: This classical based Pilates mat class will work you from the inside out. Focusing on strengthening your core and lengthening the body, the results are improved posture, strength, flexibility and overall wellness.
Flexibility: Explore a unique blend of exercises based on contortion, Pilates, gymnastics, yoga and body weight training. Learn to bend your back, open your hips and shoulders, and use your core to create a more beautiful and safe arch. Get ready to backbend, hover and get your toes to your nose. With twisting and turning you will learn the proper techniques to gain progress quickly and be able to bend for a lifetime.
Tai Chi: A martial art that improves health, vitality, strength, balance, posture, flexibility and circulation as well as providing stress reduction. Tai Chi is characterized by its slow, intentional movements that are performed with complete relaxation.
Warrior Boot Camp: Warrior Boot Camp combines resistance training with high-intensity cardiovascular exercises to prepare you for the challenges you'll face on your way to competing in area Obstacle Course Races or on TV's American Ninja Warriors. This program delivers an intense mix of cardio, strength, endurance and sport-specific agility drills.
Hollywood H.I.I.T.: Focused on functional integrative movement in a High Intensity Interval Training class format, Hollywood H.I.I.T. pairs the energy of classic aerobics with contemporary movement, safe and effective progressions and inspired cueing of form and technique. Jeff's energy and attention to form will motivate you to train with greater enthusiasm and all-out fun, leaving you feeling like the Hollywood A-list!
TRX: Born in the Navy SEALS, TRX Suspension Training develops strength, balance, flexibility and core stability simultaneously. The TRX Suspension Trainer is the original workout system that leverages gravity and your bodyweight to put you in control of how much you want to challenge yourself on each exercise! Perfect for the cross-training athlete in you!
Slow Flow Yoga: Inspired by Ashtanga Yoga, Meditation and various Martial Arts practices that bring mental awareness deeper into the body and wake up and enliven the entire nervous system, this liberating and contemplative practice is grounded deep in the breath and the physical body. All levels.
Kripalu Yoga: Kripalu means compassion: compassion towards oneself and towards others. In this gentle to moderate level yoga class, experience effort (strength and endurance) mediated by ease (relaxation and non-judgment), as breathing, alignment and flexibility become the single pointed focus. All levels of practice and ability.
Rumble Yoga: Combine the self-massage of foam rolling (self myofascial release) with traditional yoga postures to increase circulation and improve the appearance and function of your muscles. Rolling warms up the muscles and increases flexibility by breaking down adhesions between muscle fibers and increasing hydration; this allows more blood to pump through your body, increasing your metabolism. Rumble & Roll your way through this one-of-a-kind workout! All levels.
Vinyasa Flow: This vigorous Vinyasa yoga class is for the yoga athlete looking to strengthen, stretch and sweat! Build a dynamic core, while combining cardio, strength and endurance in this total body yoga workout.
Power Yoga: Challenge yourself with an intermediate/advanced series of upbeat and athletic yoga sequences based on the Baptiste Method, while moving with intention and preserving the integrity of the postures. A contemporary playlist inspires the sweet and sweaty flow of this dynamic Power Vinyasa.
Yoga for Climbers: Join avid Rock Climber and Certified Yoga Instructor, Sarah Athanas, to fine tune your sport-specific muscular strength and joint mobility and advance your climbing and bouldering skill level. Open to both Climbing Members and Fitness Members.
Yoga for Men: Yoga For Men translates into masculine power ~ by waking up muscles you don't often use, by encouraging functional and cooperative multi-joint movements, and by building wicked upper body and core strength. The end result is deep relaxation and more flexible, pain-free living. Sorry ladies, Broga Bros only.
Yoga Dance: This dynamic experience of inner rhythm and outward movement is based on Kripalu's free-flow of yoga postures known as meditation-in-motion. Learn to open and flow with your innate emotions. Each class begins with a thorough warm-up, builds to an ecstatic climax, and dissolves into peaceful relaxation. No previous dance or yoga experience needed.
Meditation: Awaken kindness, mental attention and wisdom in this guided half-hour mindful meditation class. Allow yourself to be fully supported (even if you've never meditated before) through careful instruction and a comfortable, safe environment. Meditation has been proven to calm the mind, improve focus, and reduce the tendency to react/overreact. Mental fitness is understood as the key complement to physical fitness.
Intro to Pole: Created for the pole novice, this class introduces grip options, forward spins, reverse spins and basic tricks preparing you for the next level of classes. Warning: Pole Dancing Fitness may significantly improve your private life!
Pole Fit: Pole Fit is one of the industry's latest trends, leveraging your own body weight for resistance. Shape your physique, learn to engage your core and boost your self-esteem as you take your dance moves vertical with strength and style. Level 2 and Level 3 classes require instructor's approval prior to participation.
Pole Dance: Pole Dance adds choreography to your Pole Fit tricks and spins to create a performance-worthy combination that you can take with you! Pole Dance teaches you movement set to a specific song. This is an open level class, consisting of warm-up, core training, flexibility, combination and cool down.