Fairfield Courses
Important Note
If you're already a belayer (a person trained to control the climbing rope) and don't need any staff assistance, then of course, just come on in! However, we encourage making an appointment for any course or program that does requires staff assistance. Walk-ins are welcome, but with an appointment and 50% deposit we'll ensure our staff is scheduled and ready just for you.
All visitors are asked to complete a registration form before climbing, and this only needs to be done once, on your first visit. Save yourself a few minutes, and CLICK HERE to register beforehand online! Otherwise, just register when you get here.
Belay Course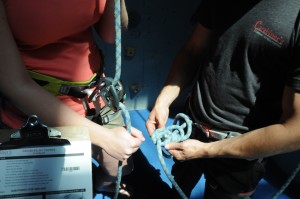 Learning how to be a belayer is the first step to becoming self-sufficient in the sport. You will learn how to use the equipment, communicate with your climber, knot-tying, and most importantly how to double-check before each climb. You don't need to be a climber to be a belayer, if you just want to belay your kids or friends. Day pass, climbing gear, and instruction is included.
$35 per person (2 or more climbers)
$50 private lesson
Includes day pass and equipment rental
Call (203) 416-5500 to schedule your Belay Course
Intro to Climbing Package
This course, our most complete starter course, starts with an hour of coaching basic climbing moves (e.g., stemming, mantling, lay-back, etc.), followed by our Belay Course. Now you've got a good starting foundation!
$90 private lesson
$75 per person (2+)
Duration: 2 hours
Day pass & equipment included
Call (203) 416-5500 to schedule your Intro Course
Sport Climbing – Learn to Lead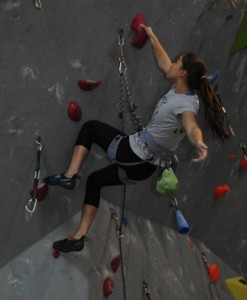 Take the "sharp end" of the rope and learn to lead on our huge sport climbing wall. You'll learn proper clipping, rope management, lead belay, and falling technique in this two-part advanced climbing/belaying course.
Prerequisites: Several months of extensive top rope belay experience and comfortable climbing 5.9+ terrain.
$90 per person
$140 private lesson
Two 2-hour sessions
Call (203) 416-5500 to schedule your Lead Climbing Course
Private Climbing Lesson

For any age or ability, take our private climbing lesson and bring your climbing skills to a higher level! This lesson will be customized to the individual.
New Bedford, MA (508) 984-0808, Fairfield, CT (203) 416-5500